Amelie meets Venus in Berlin final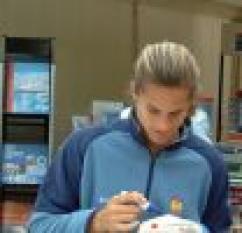 TeamWTA picture
By Etienne Stekelenburg
May 8 2004
Amelie Mauresmo of France defeats American Jennifer Capriati in two sets, 6-2 6-0, for a place in the Ladies German Open. Second finalist Venus Williams of the USA escaped from losing to Croatian Karolina Sprem in three sets, 2-6 6-3 6-4. The winner of the 2001 final in Berlin Amelie Mauresmo had no problems with Jennifer Capriati, the other final contender in 2001. The French No.2 seed only needed 53 minutes to step into the Ladies German Open final.

Mauresmo said that she was expecting a tough match, she was feeling stronger throughout the match. She was somewhat scared about her back in the beginning of the match. She has been working on her serving technique because of her back-injury problems.

Jennifer Capriati who defeated Anastasia Myskina 6-3 6-2 had no chance in getting any grip on Mauresmo's game. Although both players were confident to reach the final the American 6th seed never reached a finalist status.

The match between Croatian youngster Karolina Sprem and American Grand slam winner Venus Williams turned out to be a fierce struggle. Venus Williams came out as the winner in the high quality three sets match.

Karolina Sprem took a 1-0 lead after she had won the first set in only 23 minutes, 6-2. Sprem had a very good start and broke Williams' first and second service game and holding her own taking the 4-0 lead.

In the second set Williams saw a chance to come back, attacking Sprem's second serve more strongly causing double faults and some errors on the major points.

Williams broke for a 2-0 lead in the second but Sprem tied for 2 all when she took the re-break chance. In the seventh game of the second set Sprem failed to score on deuce and Williams was ahead 4-3 before she broke Sprem for 5-3. Again Sprem could not take advantage after deuce to come back for 5-4 but she let Williams take the second set 6-3.

Karolina Sprem showed what she was capable of. With some good performances in earlier tournaments the 19-years-old Croatian made clear that she is taking care of business and that she moving up in the ranks quickly. She came into the quarterfinals after Kim Clijsters had to withdraw with her wrist injury. Sprem had defeated Fabiola Zuluaga 6-3 6-3 for her spot in the semi-final.

In the third set the match could have gone either way. Venus Williams was on the good side of the score after Sprem failed to score the decisive points. Sprem could take a 4-2 lead after being 0-3 ahead but she could not win the points on advantage and after six times deuce it was Williams who gained confidence in winning the third set and the match.

Williams broke Sprem for 4-3 and holding her own serve for 5-3. Sprem could come back to 5-4 but she could not prevent Williams from winning on serving for the match although Sprem could make it deuce twice but not getting advantage.

Karolina Sprem played a great match against Venus Williams who seems to be ready to win the French Open, especially now that Clijsters had withdrawn from Roland Garros and Justine Henin-Hardenne is just back in practice after her illness.

"I played many great players in my time", Venus Williams said about playing Karolina Sprem after the match. "I never thought I would lose and now I have to get ready for tomorrow". After twisting her ankle in the last game of the match she added that it's priority to get healthy tonight.