Monica Seles escapes early defeat against Barna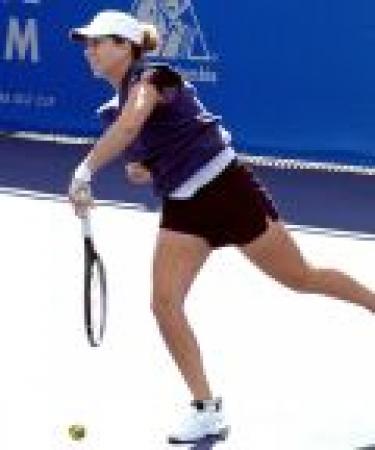 Courtesy B. Mitchell
By Etienne Stekelenburg
April 16 2003
Monica Seles' first match after an injury break of seven weeks almost ended in a defeat against Anca Barna. Seles won in three sets 2-6 7-6 (5) 6-3 at the Baush & Lomb Championships. The green clay tournament was set to see how her left feet would react after a stress fracture in February. Monica Seles almost withdrew when she strained her neck Monday night and fixed the next morning. She decided to play because she didn't have her first match until Wednesday.

"I really couldn't move it at all, I couldn't practice, nothing. It was one of those things where you're stuck. You can't look to the left or right." she said. During the first set of her match, she needed a timeout for a trainer to come to the court and massage out some of the pain.

Seles said she was lucky to win the tiebreak because it could go either way with 5-all. "Instead of going over to Europe and saying, 'Gee, my foot is not doing too good,' I really enjoy Amelia Island, so I thought this would be the perfect combination," Seles said. "I just really came down here wanting to get some matches and have a good time."

Seles will be playing a third-round match on Thursday against 10th-seeded Nathalie Dechy from France who defeated Maria Vento-Kabchi from Venezuela 7-5, 4-6, 7-5.

Top-seeded Belgian Justine Henin-Hardenne, who won the Family Circle Cup last week, kept up her winning streak with a 6-3, 6-0 victory over Dally Randriantefy from Madagascar.

Fifth-seeded Jelena Dokic defeated Tina Pisnik, 7-5, 5-7, 6-1; seventh-seeded Patty Schnyder defeated Maja Matevzic, 6-1, 4-1, retired; tenth-seeded Elena Dementieva beat Lina Krasnoroustskaya, 6-1, 7-5 and 15th-seeded Paola Suarez beat Elena Likhovtseva, 4-6, 7-5, 6-3.